Advanced File Organizer can help you find any file stored on any removable media (CD, DVD etc.) in a matter of seconds. You won't even need to place the disk into the drive!
What Is It?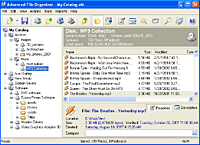 Advanced File Organizer is the software for cataloguing and organizing all kinds of removable media. It is very easy to use and at the same time is very powerful.
What Can It Be Used For?
With Advanced File Organizer you can:
How Does It Work?
Advanced File Organizer indexes your removable media and stores information about all files found there in its database. When you need to find some file, you may run Advanced File Organizer and use its advanced search and browse capabilities to locate the required file and identify the media it is stored on.
What Kinds Of Media Are Supported?
Advanced File Organizer supports all kinds of media recognized by Windows. The list of supported media includes Data CD, CD Audio, CD-R, CD-RW, DVD, DVD-R, DVD-RW, DVD+RW, floppy disks, network drives, hard drives, USB drives, flash cards, ZIP, Jazz and other kinds of removable disks. In other words, if you can see the contents of a disk in Windows Explorer, you can index this disk with Advanced File Organizer.